Technology Leader in Data Recovery
We have solution and technology on both the hardware and software aspects of data recovery. Our clean lab is just next to our help desk office. We do not send the jobs to some unknown locations and our own engineers are working on each and every job.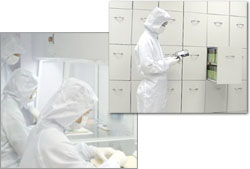 Engineers working in a Class 100 Clean Lab
Adroit Data Recovery Centre is equipped with the State-of-the-Art clean laboratory situated in Singapore.
We are the first recovery service provider established in Singapore since 1998. During those times in Singapore, the concept of data recovery had not even started to emerge yet. Through out these years, we have accumulated wealth of experience as technology of data media emerged. To-date, ADRC had handled more than 50,000 jobs with a high recovery success rate.
We have also invested more than S$1 Million worth of parts and proprietary equipment housed in our Class 100 clean lab. We are constantly researching and breaking new ground into innovative data recovery processes. We also collaborate with overseas lab in Europe and USA to ensure that we always keep up with the latest technology.