Prompt Services with Unsurpassed Turn-Around Time
We understand that data is time critical. Data recovery processes are always on emergency basis. We are proud to deliver our prompt services unsurpassed by any others. With the class 100 clean lab just next to our office, we could process the job nearly immediately. If need be, we could complete the job within 2 to 4 hours.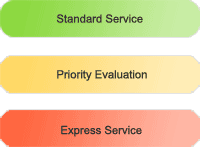 3 service levels to cater to our customers needs
We offer express data recovery service that allows us to effectively recover data from a failed hard disk within 24 hours at an affordable price.
Under our normal queue, it takes just one to two days for evaluation and another one to three days for recovery process.
If the customer needs to have a rushed evaluation and quotation within 24 hours, the customer could request our Priority Evaluation. It does not affect the cost of recovery and it allow customer to get an early quotation for timely decision
Most of the time, our jobs on average are completed within 1 to 2 days.
Prompt data recovery service never comes freely. It is a result of continual investment in parts stocks, technical research, innovative process improvement and our stride for better customer service.